There are days when we don't find the right words. Then there are days when the words don't come out of our mouths. Either way, our stuttering keeps us from expressing how we feel, what we like, and so much more.
It is a common notion that people who stutter (PWS) are shy, introverted and we speak less.
Do we speak less voluntarily? Are we quiet and withdrawn by choice? Or, is it because we have been through so much struggle to say a simple word, faced mockery and judgement from the listeners?
Why Do We Need An App To Stop Stuttering?
For those of us who stutter, the world may seem a little bleak on the particularly bad days when we have to go out and meet people, attend phone calls or place an order at a drive-through.
After trying experiences we feel like sharing, but that entails more talking! And that's something we tend to avoid.
Wouldn't it be great if we had an app to stop stuttering?
Finding the right people is not only difficult, but speech therapy for stuttering tends to be costly in every corner of the world.
Whether the speech-language pathologist (SLP) specializes in child speech therapy or adult stuttering treatment, they charge a bomb per session.
Moreover, we have the tendency to stop practising after a couple of sessions either because the exercises seem boring or due to the lack of motivation.
It often results in high rates of relapse in adults.
Wouldn't it be great if we had access to a personal therapist from the comforts of our homes?
If you share my thoughts, then you will find this app to stop stuttering very useful.
Stamurai is the speech therapy app available for download from both Google PlayStore and iTunes Store.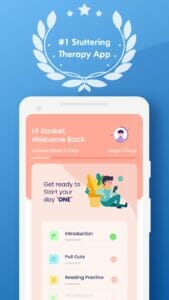 The app combines fluency shaping strategies with stuttering modification to offer its users authentic and effective stuttering therapy online.
How Can An App To Stop Stuttering Help Our Stutter?
Not all apps are the same.
Stamurai is a smartphone app that offers the complete treatment plan necessary for you to stutter less or stop stuttering altogether.
Here's are the most unique features of the world's most versatile stuttering app –
1. A Guided Training Plan
You can use the app to customize the speech exercises and practice material for daily practice.
You can practice for 15 minutes to as long as you like every day.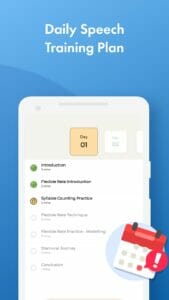 The app is improving and evolving daily.
As you keep using Stamurai, it adapts to your training patterns. That's the beauty of an AI-powered anti-stuttering solution.
2. Bespoke Tools for Users
You will find several state-of-the-art tools effective for the treatment of stuttering including breathing exercises and meditations for relaxation.
The speech therapy app also includes Delayed Auditory Feedback (DAF) – an altered auditory feedback technique that increases the time-gap between the spoken words and their auditory perception.
It is a proven technique that contributes towards enhanced fluency in PWS.
3. Access to Several Speech Therapy Techniques
If you have never received speech therapy, it is only fair that you will want someone to guide you.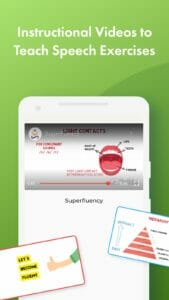 Stamurai solves this problem by providing you with multiple instructional videos that will help you master the speech exercises.
4. Daily Multiple Group Video Calls
You can download the app and find the section for scheduled group video calls right in the "Today" section of the app.
Select any of the scheduled group video calls to browse the different timings for the same.
Register for a slot and you will receive the link to join the call on Google Meet 10 minutes before the call begins.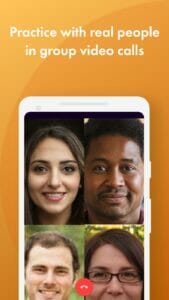 Each call is moderated by a trained professional, who knows how to facilitate a safe environment for every participant to practise impromptu speaking, reading and interactions.
You can also choose to just observe.
You can inform the moderator that you want to participate but not speak anything. You can attend as many calls as you wish per week.
5. Receive Stats and Assessment Reports
You can receive scientific assessments on your progress and performance.
The data-based insights are effective in keeping the motivation up.
In traditional speech therapy setups, you have to rely on the therapist for feedback and progress reports.
However, while you use Stamurai, you can access your progress statistics based on how you have performed each day during your speech exercises while using freestyle tools and as per your daily progress.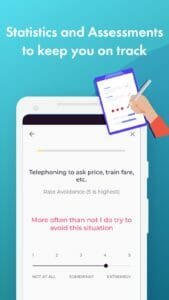 A speech therapy app like Stamurai is especially necessary for people who have been stuttering for quite a few years without seeing any remarkable progress from attending speech therapy sessions.
Before using any stuttering therapy app, you should always check the reviews of the same.
Reviews and ratings make a product trustworthy, much like the Stamurai speech therapy app reviews which detail how each feature and section has helped long-term users find fluency and ease in stuttering.
Why's Stamurai More Than Just another App to Stop Stuttering?
Apps like Stamurai are not just tools for therapy; they also foster dedicated communities consisting of PWS, experts on stuttering, moderators, and speech therapists.
If you have been trying to get in touch with a therapist, you can find one in the community or write to Stamurai about your struggles.
It provides the wholesome speech therapy experience without the exuberant cost of traditional speech therapy from speech-language pathologists.
Stamurai Goes the Extra Mile To Ensure You Practice Daily
1. Regular Updates and Notifications
When I began using Stamurai, I initially thought that it would be like any other therapy experience I had had before. I would use it for two days or maybe five, then forget all about it.
However, that is impossible with the dedicated effort Stamurai puts in to remind you to continue your practice.
You will not only receive notifications from the team every day, but you will get to see your progress in the Plan, Learn, and Freestyle sections of the app in real-time.
2. Email Updates
Stamurai cares! The team sends out email messages to the users who have strayed away from practice or given up using the app for too long.
The only way to reclaim control over one's speech is with the daily practice of speech exercises and the team understands that very well.
The app tracks everyone's rate of use, progress, and duration of exercising.
So, don't at all be surprised if you receive an email from the team asking if you are doing alright, or if the app needs to alter something to make you feel more comfortable with your daily sessions.
3. Awards and More
On group calls with 3 or more participants, the best speaker gets an award via anonymous voting!
It is one of the most motivating attributes I have come across in stuttering therapy.
Traditional stuttering therapy cannot include the awards or rewards aspect for multiple reasons, but that doesn't stop Stamurai from making your day or week with one after your group call session!
4. Keeping Things Real
Stamurai keeps things real.
The app stresses on the fact that adulthood stuttering is difficult to "cure."
That's the primary reason this app teaches stuttering modification techniques to all users.
The stuttering modification will enable you to face your feared-words and trying-situations.
It will teach you how to control your speech fears and avoidance behaviours. Stamurai's technique will also teach you how to stutter more easily by reducing physical tension.
These techniques include Preparatory Sets, Cancellations, Light Contacts and Pull Outs.
Yes, We Need an App to Stop Stuttering just like Stamurai
There's no perfect cure for stuttering.
Can you overcome stuttering 100%? No. But, you can always learn how to manage your stuttering or stop stuttering as much as you do.
With Stamurai, you can become more fluent or stutter with ease with daily speech exercises.
Technology-based methods like DAF can reduce your stuttering.
You can practice light contact, pull-outs, and choral reading to make yourself at ease while pronouncing your feared words.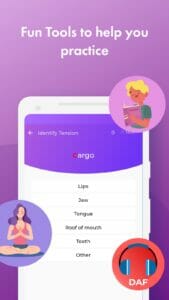 You can step out of your comfort zone with group calls in a safe environment.
Stuttering is a speech-disorder that not only affects how we speak, but also how we think, and what decisions we take.
Stammering affects our life more than we would like it to.
However, we must not let it define who we are.
Stuttering will continue to be a part of our lives, but now we have access to at least one app to stop stuttering, or rather, become more fluent at it!
You can download Stamurai, the stuttering therapy app for your android phone or iPhone right away.